Where Sticker Art Meets Streetwear
Creative Studies is unisex wear dedicated to remaining independent and underground, like all authentic art, design, music and culture.
We press our original underground sticker art designs that have graced signs, walls and poles around the world on t-shirts, hoodies and coffee mugs to take our "Better Living Through Creativity" message to a wider global audience.
We want to create a more equal and just society using irony, satire, culture jamming and grassroots political action.
Creative Studies. Better Living Through Creativity.
Join us.
Check out our designs
Featured Designs
Eye Love Death Metal
"GRRRRRRRRRRRRR" Show your love of death metal with this original, one-of-a-kind sticker art made into a tee and hoodie. Check out our death metal playlist here
PURCHASE EYE LOVE DEATH METAL UNISEX BLACK HOODIE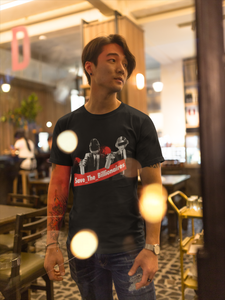 Save the Billionaires!
Raise taxes on the 99% so we can cut taxes for the 1%. Save the Billionaires!
PURCHASE Save The Billionaires x Robots Black Tee
Creators Are the Enemy
Creators provide no value.
They are useless. It's time to rid society of this growing threat and menace.
The ultimate statement shirt in a society becoming less creative by the day.
PURCHASE CREATORS ARE THE ENEMY BLACK TEE